Today my customer's site manager on their Sharepoint 2007 site went bananas. The context menu used to configure list items shrunk to four items from eight.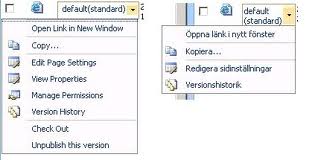 Apparently this is a known bug in MOSS that's supposedly been fixed in a cummulative update from 2009, but hey, here it was. In short the RenderXMLUsingPattern attribute on a Field definition gets lost and has to be set back to TRUE.
I've made a little tool to do just that. The tool is attached in the archive below. Call it like this:
MossMenuFix.exe http://my.site.com/web Pages
where http://my.site.com/web is the web address and Pages is the name of the list. More info on this is available here.